Traditional dental insurance plans with HMO options
What we cover in this article…
Incorporated in 1996, Dominion National is a leading provider of dental and vision benefits in the mid-Atlantic market. Dominion National has over 900,000 customers spanning individuals and employer groups to associations and municipalities. The company offers managed care and indemnity programs, claims adjudication, and comprehensive plan administration. Among Dominion's thousands of customers are leading health plans, employer groups, municipalities, associations, and individuals.
Headquartered in Arlington, Virginia, Dominion National was selected by the U.S. Office of Personnel Management (OPM) as one of only 10 dental carriers to be offered through the Federal Employees Dental and Vision Insurance Program (FEDVIP). The FEDVIP provides benefits to federal employees, federal retirees, and their respective family members.
The Dominion National group of companies includes:
Dominion Dental Services, Inc.
Dominion USA, Inc. licensed issuers of dental plans
Dominion Dental Services USA, Inc., a licensed administrator of dental and vision benefits
Dominion National shoppers have three principal options from which to choose:
"Select" plans
Preferred Provider Organization (PPO) plans
Discount Program
Select Plans
Select Plans (Select Plan Basic & Select Plan Premium) are managed care dental plans with a network of over 5,200 dental care providers. Managed care dental plans have similarities to HMOs in the world of health insurance. Typically out-of-network care is not covered by the plan. The Select Plans' covered dental services have flat-fee copayments with no annual limits on spending by the dental plan. The Select Plans also have no waiting periods and no deductible.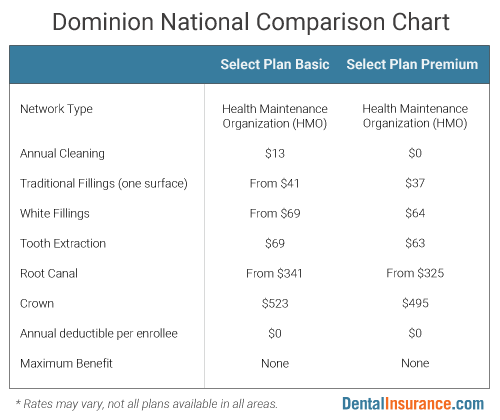 Preferred Provider Organization (PPO)
A Dominion National PPO plan allows members to receive dental services from either an Elite PPO network dentist or any licensed dentist outside of this network. Out-of-pocket costs are normally lower for dental care received from a dentist inside the Elite PPO network. In fact, members may save up to 77 percent by using an in-network dentist. The Elite PPO network has over 9,000 dentists.
Discount Program
While dental discount programs are listed along with other dental insurance options, they are not the same. A Discount Program is not an insurance plan but, instead, a savings program where members can receive dental care at a reduced price from any of the dentists participating in the network for the Discount Program. Fees for extensive dental care may be reduced by up to 55 percent as compared to the usual and customary charges for those services.