Florida Dental Plans: Rates, Benefits, & Deductible Trends
In this article
Understand the trends in Florida to buy with confidence
With over 20 million residents and more than 10,000 dentists, Florida is one of the largest markets for dental insurance in the nation. By analyzing our own inventory of dental plans in the Sunshine State, our Florida Dental Insurance Guide will help you:
The large number of residents and dentists encourages rigorous competition in the Florida dental insurance market. An analysis of 37 Florida dental plans for 2023 found the average monthly premium for a 33 year-old enrollee was $42.93. This average was a little more than 2 percent higher than the average DentalInsurance.com observed for 2022 (though the 2022 study had 3 fewer plans). A similar study on California dental insurance found the 2023 average premium approximately 5 percent higher than was the case for Florida. The Humana Extend 5000 had the highest premium at $99.99 a month, but it also had a maximum benefit twice the average amount of the other PPO and indemnity plans examined. The lowest cost option among traditional dental insurance was a HMO plan, the Guardian Managed DentalGuard, cost $8.06 a month. Metlife also had a HMO dental plan that was almost the same price, the MetLife TakeAlong Dental HMO-Managed Care 350 (Low). This plan's premium was only $8.20 a month.
The average premium was derived from 34 plans offered by eight insurance companies: Ameritas, Delta Dental, Guardian, Humana, MetLife, Nationwide, NCD, and Renaissance.
Deductibles, the amount paid out-of-pocket by a plan enrollee before the plan begins to contribute to dental costs, ranged from a low of $0 to a high of $150 for an individual. The average deductible for a single enrollee was $53.38, down from 2022's $65, and 19 percent of plans had no deductible. Several plans capped family deductibles at a total of $150 annually. The highest capped deductible for a family was $450 but this plan charged the deductible only once no matter how many years the family stayed continuously enroll in the plan. Some plans did not have a cap on the family deductible amount and charged $50 per enrollee.
Comparing Plans
Common dental work such as crowns also had a broad range of costs across the plans reviewed. Two plans had no coverage for crowns. HMO plans usually charge flat fees for crowns. Their average copayment in the Florida study was $358.75. The least expensive copayment was $245 and the most expensive was $430. Indemnity and PPO dental plans contributed a percentage of the crown cost, leaving the remaining expense to be paid by the enrollee. The average percentage paid (by a PPO or indemnity plan) toward the total cost of a crown was 30 percent in the first year of insurance coverage. Several plans increased their contribution toward crown costs in the second and third year of continuous coverage.
PPO and indemnity contributions toward fillings were higher than was the case for crowns. On average, those plans covered 62 percent of traditional filling costs in the first year of coverage. Teeth extraction coverage was not quite as high, averaging 42 percent of the total cost.
Many dental plans in Florida had a waiting period attached to some of the services covered by the plan. A waiting period is a delay before the plan will pay for a certain dental procedure. The length of a waiting period is often 3-months to a year, and it is measured starting from the date the plan becomes active. of the 34 Florida dental plans reviewed, 41 percent did not have a waiting period for any of the benefits they provided.
Most of the Florida dental plans in this study had an annual limit restricting what an insurance company will pay for covered dental care. This limit is called the maximum benefit. The HMO dental plans in the study had no such limit but among the remainder of the plans, the average maximum was $2,059. This was considerably higher than the previous year's average of $1,640. This year had the benefit of two new plans: the Humana Extend 5000 with a $5,000 maximum, and the NCD Complete by MetLife with a $10,000 maximum benefit.
Cosmetic dentistry is often excluded from traditional dental coverage. These services include teeth whiting and veneers. DentalInsurance.com found seven out of 37 plans examined (19 percent) included teeth whitening among their covered benefits.
You can compare prices and out-of-pocket costs in your area to the averages mentioned above by visiting our dental insurance quote page. We have prices for plans in Miami, Jacksonville, Tampa, Orlando, and everywhere in between.
A Reputation Built on Trust
See why our customers trust us to help them find the right dental plan
Excellent
4.7 Stars Based on

669 reviews
All my questions were answered
Reuben, sales, was great and helped with making our final decision after reviewing the various plans available...
---
The Villages, FL
Very pleasant and knowledgeable representative
"I was glad he was available to answer all my questions, plus give me his direct line to call him back, if I had any other questions or concerns...
---
Naples, FL
Florida Dental Insurance: Networks
Florida has a variety of options regarding the dentists who can be used in conjunction with a dental plan. HMOs have the most restrictive networks and account for 12 percent of the Florida plans examined for this study. PPOs, in contrast, represented the majority of dental plans at 79 percent and often provide wider dentist options. Indemnity plans, which typically do not restrict dentist choice, represented 9 percent of plans.
If you have a preferred dentist you want to continue using for your dental care, confirm that they are in-network with a dental plan before enrolling. You may even want to call the dentist's office to confirm because sometimes dental provider directories at an insurance company are out of date with respect to insurance acceptance.
Care received from an out-of-network dentist for your dental plan can lead to higher out-of-pocket expenses. A plan may choose not to reimburse for out-of-network service (e.g. this may happen with a HMO) or may reimburse at a rate the dentist sees as too low, resulting in "balance billing" where you are responsible not just for your normal copay but the difference between what the dentist charges for a service and what the plan paid.
Seniors & Dental Coverage
Florida is famous for being a retirement destination for senior citizens. In fact, according to the Population Reference Bureau, only the state of Maine has a higher percentage of senior citizens than Florida. Over one-in-five Florida residents are age 65 or older. This population is typically eligible for Medicare but Original Medicare (i.e. Parts A & B) does not include dental care among its medical benefits. As such, senior Floridians often look for a stand-alone dental plan or a Medicare insurance that includes dental benefits.
Need some help choosing a dental plan?
Our agents can:
Answer your questions
Confirm if your dentist is in-network
Enroll you over the phone
800-296-3800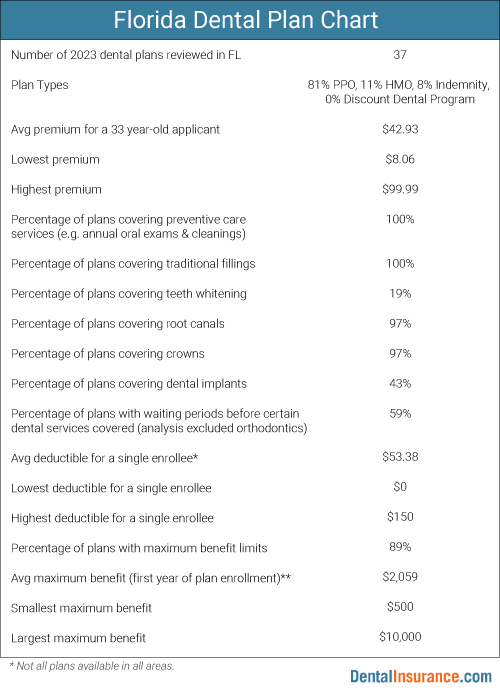 Oral Health in Florida
The State of Florida has 14,000 practicing dentists and 30,000 dental team members serving the state's population of 21,000,000. This means there is a ratio of 1,500 residents for every one dentist. With respect to children's oral health, the 2016 report "Florida's Burden of Oral Disease Surveillance Report" noted that "the majority of children in Florida (68.9%) have teeth that are in excellent or very good condition. This prevalence is similar to the national average." With respect to the elderly, Florida has one of the highest senior populations in the United States. Dental care is a major concern for the elderly population because:
Most seniors are retired and lack access to an employer dental plan
Original Medicare does not include dental benefits
Many seniors take medications that reduce saliva production and increase the probability of tooth decay
Charitable Care
Florida has several programs providing charitable dental care. For example, the Florida Mission of Mercy holds a two-day event where free dental services are provided to 2,000 low-income Floridians on a first-come-first-serve basis. "Project: Dental Care" is a program delivering dental services across the state to people who do not qualify for public assistance but are still in great need of dental care. The program targets lower income Floridians underserved by traditional avenues of dental care.
More Oral Health Resources for Florida Residents
We've pulled together information to help you find resources in your state to help you maintain your oral health.
Since 1884, the Florida Dental Association (a statewide professional membership organization representing Florida-licensed dentists) has worked to ensure that patients receive the highest quality care from dental professionals practicing in the state.
This resource provided by the Florida Dental Association promotes and advocates for oral health among all Floridians.
This resource includes discussion of a wide variety of dental topics on dental needs according to life stage as well as answers to your general dental questions.
This resource lists free and low-cost dental services available in Florida, including free dental clinics, sliding fee scale dental clinics, and non-profit dental clinics.