Average Premium, Deductibles & Benefit Limits in NC
Searching for the Best Dental Insurance in NC
If you're in the market for dental coverage in North Carolina, you'll increase the odds of getting a quality plan with the best value for the dollar if you understand:
Dental benefits are not a one-size-fits-all product. There are several options from which to choose and they each have their own strengths and weaknesses. The main options available in North Carolina are:
Traditional dental insurance is similar to medical insurance. In exchange for the payment of a monthly premium, an enrollee receives coverage for a predetermined list of services. For a HMO (a dental health maintenance organization) insurance plan, the enrollee must obtain dental care from a dentist (or related specialist like an oral surgeon) belonging to the HMO's network. Out-of-network care is typically not covered. A dental preferred provider organization (PPO) insurance plan, in contrast, does have out-of-network coverage but at higher out-of-pocket costs for the enrollee.
Indemnity plans do not have a network so the enrollee can use whichever dentist he or she prefers. However, an indemnity plan does not work like insurance. The enrollee pays for dental care at the time of service and then receives a reimbursement for the indemnity plan. Moreover, the reimbursement level is fixed regardless of what the dentist charges so there can be a considerable difference between what the dentist charges for care and what the indemnity plan pays.
A dental discount program has some similarities with the previous two options discussed. Like a HMO plan, it employs a network of dentists. Like an indemnity plan, it is not insurance but a different form of dental benefits.
NC Premiums as low as $8.95
An examination of two dozen North Carolina dental plans found premiums as low as $8.95 a month for a sole enrollee in 2023, and as high as $96.84. Premiums were higher for families, since each enrollee increased the cost of monthly coverage. The least expensive option in the study was the discount program Careington 500 Series Dental Savings. The most expensive was an indemnity plan that combined dental benefits with vision benefits, the Nationwide Classic 2000 + VSP Premium. The remainder of the plans whose data was available for study were PPO plans. The average premium across all 24 plans, including the dental discount program, was $44.20 for single coverage (rate quotes were obtained for a 33 year-old sample applicant). 13 of the 24 plans in the study had monthly premiums below the $41.85 average.
The majority (79 percent) of plans reviewed paid 100% for dental cleanings, meaning annual cleanings did not have a copayment or coinsurance fee charged. 17 percent of plans charged the enrollee 20% of the cleaning cost, and the dental discount plan charged $45 for a cleaning treatment. With respect to out-of-pocket costs, the average deductible for these North Carolina dental plans was $64.58 a year. Only one plan in the study had no deductible.
The maximum amount a plan would pay in a year for an enrollee's dental care varied substantially from one plan to another. The one discount card within the group had no limit on the discount savings it provided. The remainder of plans (22 PPO dental plans and one indemnity plan) all had monetary limits. The average annual limit was $1,605. The most generous plan, the NCD Complete by MetLife, had a maximum annual benefit of $10,000.
Despite the fact that waiting periods are common in dental plans, 46 percent of the NC dental plans reviewed had no delays on any of their preventive, basic, or major dental service coverage. With respect to coverage of very expensive services such as braces and dental implants, the state plan review found:
25 percent of the study's 24 NC dental plans covered some level of orthodontia (though in some cases this coverage was limited to dependent children on the plan)
58 percent had coverage for dental implants
A Reputation Built on Trust
See why our customers trust us to help them find the right dental plan
Excellent
4.7 Stars Based on

669 reviews
Extremely helpful and informative
The gentleman who assisted me with getting my insurance was extremely helpful and informative...
---
Wilmington, NC
Awesome and very friendly
They were awesome and very friendly and helpful. Reuben was who I spoke with and he was prompt and courteous...
---
Location
Ready to Shop for a NC Dental Plan
Now that you're educated on North Carolina's dental insurance market, you're in a better position to compare the value behind the rate quotes you receive for different plans. The following link will get dental insurance quotes for plans available in your zip code. For the top-selling North Carolina dental plans on DentalInsurance.com, see the Bestsellers section lower on this page.
North Carolina has a variety of insurance companies offering dental coverage. Some of the more famous brands include:
NCD
Help on Finding Specific Types of Dental Coverage
Have a specific need with respect to dental insurance such as no waiting period or orthodontic coverage? The sections below link to articles that include state-by-state examples of dental plans catering to distinct needs.
North Carolina Dental Insurance No Waiting Period
Want a NC dental plan with no delays for the coverage of expensive dental services? See our article on Dental Insurance No Waiting Period which includes a list of plans that lack waiting periods.
Full Coverage Dental Insurance North Carolina
Dental benefits are not standardized but there are plans covering preventive, minor, and major dental services. See our Full Coverage Dental Insurance for both an explanation of what is meant by full coverage and examples of full coverage plans.
North Carolina Dental Insurance Covering Implants
A dental implant is a major dental procedure and has a high price tag. For more information on this treatment as well as examples of North Carolina plans with implant coverage, see Dental Insurance Covering Implants.
Dental Insurance that Covers Braces
Most privately-purchased dental plans lack coverage for orthodontic care, but there are plans on the market offering this benefit. To explore where ones are available in North Carolina, see Dental Insurance that Covers Braces.
Dental Insurance Covering Teeth Whitening
Several procedures in cosmetic dentistry are uncovered by traditional dental insurance plans. This means a service such as veneers are typically paid out-of-pocket by patients (with no financial assistance from their insurance plans). However, an increasing number of plans are broadening their benefits to include coverage for teeth whitening, which is among the most popular of cosmetic dental treatments. Our page on Dental Insurance for Teeth Whitening includes a list of plans that cover some form of teeth whitening.
Need some help choosing a dental plan?
Our agents can:
Answer your questions
Confirm if your dentist is in-network
Enroll you over the phone
800-296-3800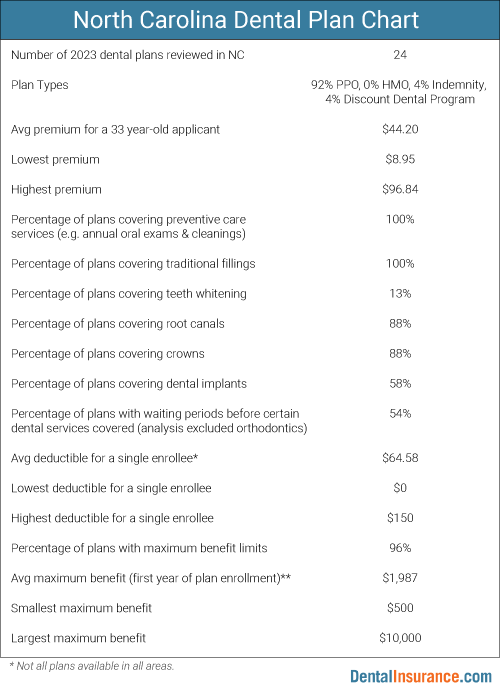 Oral Health Resources for People Living in NC
We've pulled together information to help you find resources in your state to help you maintain your oral health.
The North Carolina Dental Society includes more than 3,900 member dentists. The website can help you find a local dentist as well as file a complaint if you have objections about the quality or appropriateness of dental treatment you received.
Get answers to a variety of questions. Topics range from informational discussions like "Can I go to the dentist while pregnant?" and "3 Things your dentist wants you to know about the COVID-19 vaccine" to immediate needs such as "What happens if I knock out a tooth?" and "How do I treat a toothache?"
This resource lists free and low cost dental services across North Carolina. The North Carolina Missions of Mercy Foundation has set dates for free dental clinics to be held in Wilmington, High Point, and Gastonia.