Survey: Why Do People Delay Dental Care?
Young adults worry about painful treatment while seniors put off by out-of-pocket costs
During the height of the COVID-19 pandemic, many dental offices across the nation were closed. Even after they re-opened, there were many Americans delaying dental care. In some cases, job loss from the pandemic's effect on the economy resulted in the discontinuation of employer-provided dental benefits. Regardless of the reason, putting off necessary dental care presents a risk of deteriorated oral health since conditions may worsen or contribute to additional problems with the teeth or gums.
In the interests of exploring the matter more fully, DentalInsurance.com commissioned a nationwide survey investigating multiple factors that may lurk behind postponed dental care. Specifically, the survey asked over 1,200 people across the U.S., "What issues have made you put off dental work?" Respondents could choose one or more of the following answers:
High out-of-pocket costs
Fear it will be painful
Lack of insurance
Dental plan won't cover
Time-off needed for recovery
Your preferred dentist is out-of-network
If none of the answers applied, respondents could select "none of the above."
Over half of respondents (59.5 percent) indicated that none of the survey's options had resulted in a delay of dental care. Of the remaining 40.5 percent, postponement reasons ranked as follows:
High Out-of-Pocket Costs
High out-of-pocket costs was the number one reason for delaying dental care and was selected by one-in-five survey respondents. Expensive out-of-pocket costs for someone with dental insurance may occur from causes such as:
An out-of-network dentist is used
The dental plan does not cover the service provided
Coverage for the service is marginal
The plan has a low limit on how much the insurance company will pay for care annually
The plan has an unexpired waiting period before the service is covered
High out-of-pocket costs are best avoided during the shopping period for a dental insurance plan. Once consumers are enrolled in a plan, they are subject to coverage conditions of that dental policy. Reviewing a dental plan's summary of benefits prior to enrollment is essential because it will:
Confirm coverage of a given procedure (such as a crown or root canal)
Specify the out-of-pocket obligations for the service (usually a flat fee copayment or a co-insurance charge representing a percentage of the total cost of a procedure) including rules regarding in-network and out-of-network dentists
Alert the consumer to any waiting period that will delay coverage for a specific service
A consumer cannot assume all dental care will be covered by a dental insurance plan because dental insurance does not have standardized benefits. Consequently, the review of benefits is a necessary task when a consumer is investigating what coverage represents the best match for his or her oral health circumstances and budget. The nationwide survey results reflected these realities. For example, about one-in-ten respondents indicated postponed dental care because their dental plan did not cover the treatment and 4 percent reported care was delayed because their dentists were out-of-network. For those without dental coverage, 13 percent delayed care because of an absence of insurance.
Another consideration related to out-of-pocket costs concerns the issue of "maximum benefit." A maximum benefit is a term used by insurance companies to indicate a limit on the amount of annual spending the company will make on behalf of an enrollee for covered dental services. Most dental plans have a maximum benefit, though coverage options such as dental HMOs and dental discount programs typically lack this limit. Preferred Provider Organizations (also known as dental PPOs, constitute 80 percent of dental coverage in the U.S. and these plans normally have maximum benefits. There are many plans with maximum benefits in the range of $1,500 to $2,000 per year, though some plans may be as low as $500. Recently, some PPO dental plans have advertised maximum benefits as high as $5,000 annually.
A 2014 National Health Interview found 7.2 percent of seniors age 65 and older did not get dental care services due to cost barriers. In DentalInsurance.com's 2022 survey, 20.8 percent of seniors had delayed care on account of high out-of-pocket costs. The reason for this increase observed between the two surveys is not clear because of differences in population sampling as well as differences in economic conditions between 2014 and 2022. One contributing factor to dental access problems for seniors is that Original Medicare does not include routine dental coverage. However, Medicare Advantage enrollment continues to rise among seniors and most of these insurance plans delivering Medicare benefits include some supplemental level of dental coverage. According to the Kaiser Family Foundation, 94 percent of individual Medicare Advantage plans in 2022 had dental benefits.
Dental Anxiety
The second most common reason given for delaying care was fear that dental care will be painful. Approximately 13 percent of adults surveyed delayed dental care on account of this fear. Interestingly, fear of dental pain was twice as common an answer than people delaying care because it was so major that it required time-off for recovery (5.5 percent). Dental research performed by British scholars estimate 36 percent of the U.K.'s population suffer from a fear of dentists, with an additional 12 percent of the population being characterized as experiencing an extreme dentistry fear. A separate 2018 survey by market research firm DentaVox claimed one third of the U.S. population avoids dental visits due to fear or anxiety.
With respect to DentalInsurance.com's nationwide survey, there were significant differences regarding fear of dental treatment pain among demographic segments. Among respondents in the 18-24 year-old age segment, fear of treatment pain was the number one reason for delaying dental care. 23.6 percent of this age group reported delaying dental care for this reason. In comparison, less than 9 percent of seniors age 65 and older delayed care because care was assumed to be painful. Of all age groups, seniors were least likely (8.65 percent) to report fear as a reason to postpone dental care.
Men were also slightly more likely than women to avoid dental care because of a fear of pain. 14.1 percent of men delayed dental care due to a fear of pain. 12.63 percent of women, in contrast, selected "fear of pain" in answer to the question "What issues have made you put off dental work?"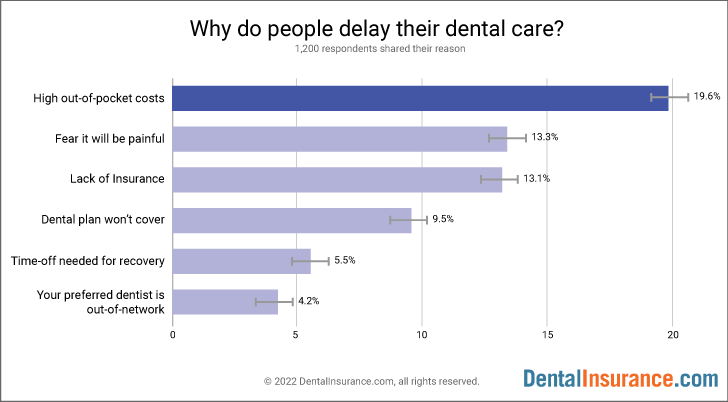 Methodology
Report data is based on 1,214 respondents to a nationwide multiple choice survey conducted from May 5, 2022 to May 7, 2022. The single-question survey asked adults in the United States, "What issues have made you put off dental work?" Respondents had the option of selecting one or more of the seven following options:
High out-of-pocket costs
Fear it will be painful
Lack of insurance
Dental plan won't cover
Time-off needed for recovery
Your preferred dentist is out-of-network
Below the aforementioned six options, there was an additional option for "None of the above." The survey prevented the user from simultaneously selecting a reason for dental delay AND "None of the above" at the same time. 
Answer options for the survey question were displayed in randomized order across respondents. 1,513 options were selected by 1,214 adults who responded to the survey. Survey respondents were drawn from Google's AdMob network. Advertisements are displayed within mobile apps and consumers can voluntarily participate if they choose. For more information, see What Is Admob?
In order to achieve representative targeting, Google (who performed the survey on behalf of DentalInsurance.com) dynamically targeted respondents to match the demographics of the internet population using their inferred demographics (age, gender, and geography). Google used estimates for the national internet population from the U.S. Census Bureau's 2017 Current Population Survey (CPS) Computer and Internet Use Supplement. Their dynamic targeting approach approximate the target distribution after running, and the amount of weighting needed is minimal. Google states "Weighting is designed to remove bias from a survey sample and make the results more closely represent the target population. For example, if the percentage of female respondents in a survey is less than that of the target population, we increase the contribution of the female responses by a factor (a weight) so that females are representatively proportionate to the target population in the weighted results."